We are excited to share that HelpSpace has been featured in the Capterra Value Report, a comprehensive price comparison guide for help desk software. This report showcases the top help desk software products that have received high ratings from users in terms of both value for money and functionality.
The Capterra Value Report provides an in-depth analysis of each product, including a breakdown of starting costs and relevant pricing details. This allows businesses to make informed decisions when choosing the right help desk software for their needs.
We are proud to have been recognized for our commitment to providing high-quality and cost-effective solutions for our customers:
Value For Money rating of 5 out of 5

Functionality ratings of 4.4 out of 5.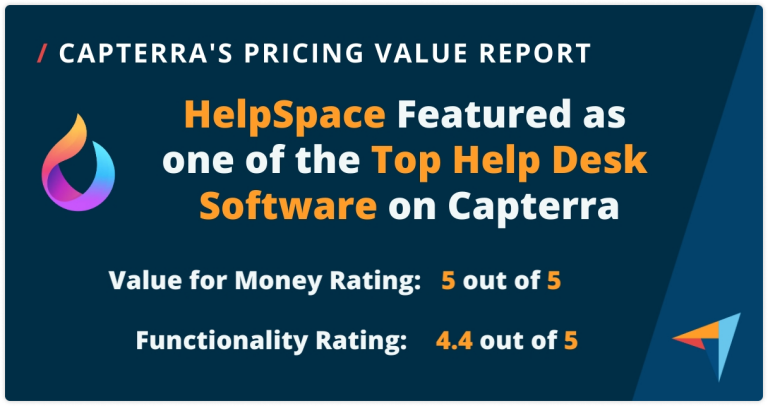 Check out our incredible placement here:
Giving an Overall Rating of 4.8 out of 5, here's what our users have to say about us:
HelpSpace truly helped with solving these problems in our company: Hosting our technical help document. Creating Help centers and hubs for our saas products. Managing all of our support emails all in one dashboard. Making our company support experience seamless.

from Max W.
I've been using Helpspace for a few months now and it's the best ticketing system I've ever tried. I really love it. It has the necessary functionalities to fit perfectly into my agency's workflow. There are too many tools out there, with too many features that complicate adoption and use. Help Space is perfectly developed, without bugs. The UX UI is very well taken care of, being clear and clean. It is a simple but fast and effective software.

from Gerardo M.
The way HelpSpace is laid out makes it very easy to understand. You can get to the section where you want to go in only a few clicks. I am able to use my own email and logo. I can create a knowledge base using my own domain and choose from 3 styles (blog, documentation or Help-Center) - it is fast loading too! The analytics feature really gives a whole picture of how your support service is doing - no ticket falls through the cracks. The features are too many to mention but they are all super useful.

from Seth G.
About Us:
HelpSpace is a well-rounded customer service tool that you and your customers will love! Benefit from team inbox, intuitive interface, self-service sites, and multiple inbound channels to get a competitive edge in your market.
About Capterra:
Capterra, Inc. is a free online marketplace vendor serving as an intermediary between buyers and technology vendors within the software industry. The company assists consumers with selecting software for their needs with user reviews and research.
Disclaimer: The graphic above shows help desk products that have the highest value-for-money and functionality ratings based on user reviews in Capterra's help desk software directory. Products are arranged in increasing order of their value-for-money rating (bottom to top) and functionality rating (left to right).